The Grande Arche at La Défense (pronounced [la de.fɑ̃s]) represents an open window to the world. Inaugurated in 1989, as a tribute to the bicentenary of the French Revolution, its amazing architecture is really impressive. Imagine how it would be to work in a building with this shape. Yes, it is not a sculpture! It is a commercial building!
The place is at a neighborhood called La Défense, which is nothing less than the commercial center of Paris and the biggest business center developed at Europe. 20.000 people live there and a total of 150.000 work there daily. It is located at the occidental extreme of the city, along the Axe Historique, that begins at The Louvre, at the center of Paris, and continue to the Champs-Élysées, through the Arc de Triomphe, until reach La Défense.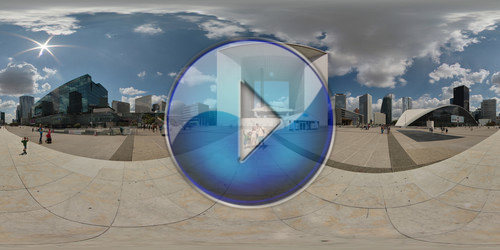 Technical datasheet:
Camera: Canon 60D
Lens: Opteka 6.5mm
Spin around: 8 stops at the horizontal with the cam about 30º down + 1 stop up (zenith)
Images: 3 JPGs expositions with 18 megapixels at each stop, using auto bracketing with Magic Lantern
Exif: ISO 100, WB nublado, 1/640s + 1/160s + 1/40s, unknown aperture (manual lens)
Final image: 12.000 x 6.000 pixels = 72 megapixels
Used softwares: Magic Lantern, Hugin, Enfuse, GIMP, Panini, Panotools Scripts, ImageMagick, krpano tools
Plugin: krpano viewer
See you, Cartola.