This is the second 360 picture I made on a show from the project Music at the Museum. At May the 12th the harper Mário Falcão, from Portugal, played at the "Real Gabinete Português de Leitura" (Portuguese Royal Cabinet of Reading), in Rio de Janeiro, Brazil. The place is quite beautiful. Astonishing. The institution was founded in 1837 and has been installed at the actual building in 1887. In 1860 had already more than 33.000 items in its acquis. The Royal Cabinet site has many more information about it and at this other one you will find something shorter. Don't forget to turn the sound on before seeing the panorama.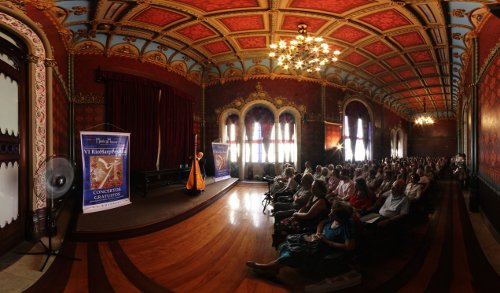 This is the first time I have used two lenses to compose the panorama. Notice how the image is better over the musician. I hope you like and let your comments.
Technical data sheet:
See you, Cartola.