This is a very interesting destiny for the tourist that visits Santiago del Chile. A small hill with almost 230 feet (70m) in the middle of the city, Cerro Santa Lucía provides a beautiful panoramic view. Nothing better to register than an immersive picture. The architecture of the place is also amazing, the kids played like if they were in a castle. After climbing the stairs the reward is the magnificent view of Santiago, with an astonishing blue sky with the Andes behind.
During the climbing there are many good places to take a picture, so I decided to share other images over the panorama in a gallery. Hope you enjoy.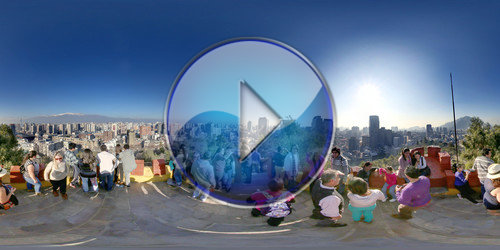 Technical Datasheet:
As I shot hand held with my arm up I decided to put the lens at 8mm instead of my preferred 15mm. This made the stitching easier with only 4 horizontal images, but reduced the zoom possibility. I had also to clone some floor to remove myself from the nadir.
Cheers, Cartola.