Hi there,
this one is from 2013, more precisely from July when I've been to FISL, the International Free Software Forum in Brazil. One of the things that most called the visitors attention was this giant Tesla Coil. The most interesting things about it were that we could receive the electrical discharges from within a Faraday Cage and the discharges produced melodies, like Sweet Child o' Mine, from Guns n Roses, the National Anthem and others. The forum happens yearly and is already going to its 15th edition now in 2014. It is always at a university in Porto Alegre, south of Brazil.
At the panorama below you will be able to watch the video in part of it, but only in FLASH devices. Unfortunately I was not able until now to enable it for HTML5 devices like Apple ones (iPod, iPad, iPhone, …).
I had published an external panorama of the same place before and also a small online video of it playing our national anthem.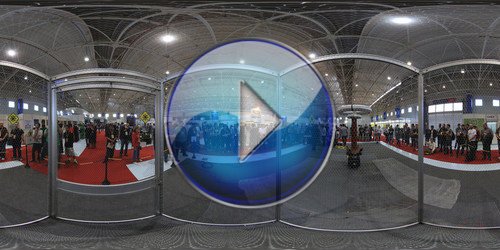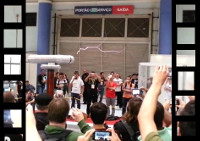 Technical Datasheet:
The challenge here has been to put the partial video stitched with the panorama. Until now I was not able to do that with Apple devices, but I think it is possible. The problem is that sometimes you spend so much time on something that you better realize that the optimal might be enemy of the good, so, after many months I realized that maybe I could never publish this panorama if I waited to achieve that.
Camera: Canon 5D mk III
Lens: Canon 8-15mm at 15mm
Spin around: 8 horizontal stops + 1 pic up + 1 pic down
Pictures: 1 JPG with 22 megapixels at each stpo
Exif: ISO 3200, WB auto, 1/40s, F11
Final image: 15.374 x 7.687 pixels = 118 megapixels
Used softwares: Hugin, Enfuse, GIMP, Panotools Scripts, FFmpeg, Panini, ImageMagick, krpano tools
Plugin: krpano viewer
See you, Cartola.