A pleasant evening in a wonderful historical place at the sound of great successes of Brazilian and international music. There is where I have made this panorama picture. A music meet organized by the charismatic Oliveira at Clube Naval's headquarters, Downtown Rio de Janeiro, Brazil. Imagine all those people switching on the microphone followed by two great musicians. I went there invited by my father (in fact I invited myself when he told me where he was going to). He is the pleasant guy with a red T-shirt at the picture (guess he has blinked his eyes, but trust me, he is pleasant). Besides being in the photo his is also the voice in the background music. Unfortunately I forgot to record the sound there, so I took this music from a CD he recorded to compose the picture ambience. The music is "Estrada do Sol", a composition from Tom Jobim and Dolores Duran, sang here by Decio Carvalho. In addition I met also two very nice ladies, mother and aunt of my cousin's husband. Nice surprise to know they are also singers at Rio's night.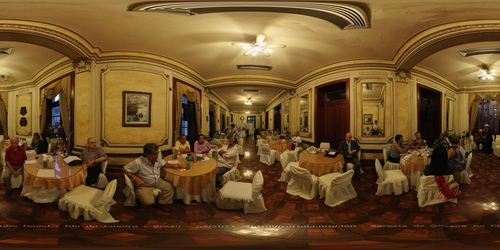 The room has a classic style with interesting details all around. All the building is very beautiful. I got really interested in making other pictures there, but didn't have the time. Maybe I'll come back another day. It has been finished in  1910 and together with Theatro Municipal, the old Supremo Tribunal Federal, Museu Nacional de Belas Artes and Biblioteca Nacional (where I also made a panorama) makes the cultural heart of the city.
Can you find me at the picture?
Technical data sheet:
I've been thinking of making a 360º panorama using flashes or many of them. Someday I'm gonna test to see if it makes a less noise  image.
See you, Cartola.