Nearby Miguel Pereira is located the Colônia de Férias Citibankense. Much time ago it has been a country side club for Citibank employees, which gave the name of the place, that can be translated to "Citibank's Vacation Camp". Nowadays it's a Hotel. I guess only associated people can be hosted there. This picture shows only a small view of the place. The mountain weather gets the cold fans there. With very simple installations it's a nice place where I've been with my family and a big group of friends during a weekend. We've had a good time. On Sunday, early in the morning, while everybody was sleeping, I took the photos to make this panorama.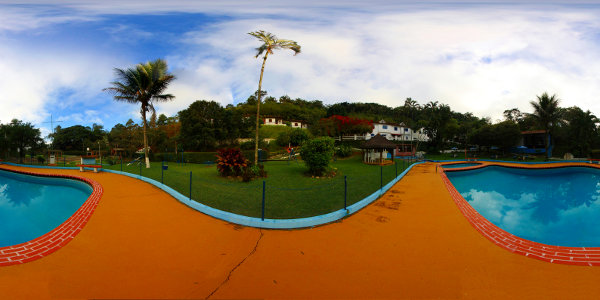 This is the first really complete 360×180º picture I've made. The last one has missed a piece of the sky.
I have published the picture using a Java plugin, not allowing full screen view, not being so immersive. At that time I also did't know the cubic format, to easier edit the bottom view (nadir). One can easily see imperfections there.
Technical Datasheet:
See you, Cartola.