The National Library is at Rio Branco avenue, one of the main streets at Rio de Janeiro Downtown. It stands near other historical buildings like the Theatro Municipal (Municipal Theater) and the Museu Nacional de Belas Artes (Fine Arts Museum). Considered by UNESCO one of the 10 bigger national libraries in the world, it is also the biggest in Latin America. Its collection is estimated in about 9 million items (uau!). The building was inaugurated in 1910 after 5 years of being built. You can see the library site for more information (in portuguese only).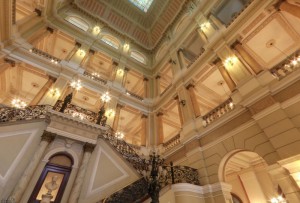 It has been interesting doing this panorama. I went out without destiny at my lunch time with all the equipment in my backpack. Before arriving to the library I have been to the Municipal Theater, which was closed, and to the Fine Arts Museum, where I have not been allowed to take a picture with a tripod. Its entrance hall could be photographed but the light there was no good at that time. Guess I was lucky. At the library I had permition to use the tripod. The final result was this wonderful image. IMHO the best I have made until now and strangely one that was easier to stitch and that needed less post edition.
The shooting took about 15 minutes. By the middle of it two tourists asked me to free their way to take a picture. I tried to explain that if I stopped I would have to begin all over again. I hope they understood me :).
I went in touch with the library managers asking to take 360 pictures inside the library, where taking pictures is now allowed. I am waiting their next contact to schedule that. If it happens surely I will post here the images, probably in a virtual tour format.
Technical data sheet:
See you, Cartola.