The Trafalgar Square is a very frequent destiny for the tourist that goes to London. At its centre is Nelson's Column, which is guarded by four lion statues at its base, among other commemorative statue and sculptures in the square. The name commemorates the Battle of Trafalgar, a British naval victory of the Napoleonic Wars over France which took place on 21 October 1805. The present architecture of the square was completed in 1845.
I've been there in 2012, 18 days before the Olympic Games and 51 before the Paralympics. The place invites us to stop a little and watch the people that pass by and the architecture around. The National Gallery is just a few steps from the lions. Founded in 1824 it is one of the most important museums in Europe and one of the most known around the world. It houses a collection of over 2,300 paintings dating from the mid-13th century to 1900 and entry to the main collection is free of charge.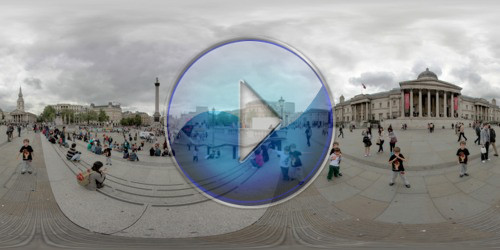 Technical Datasheet:
To make this picture I've made 3 expositions using Magic Lantern firmware, but at the end I've used only one of them. Multiple exposition in a scene with movement is always painful. I decided to generate different expositions from one original, so making a pseudo multiple exposition to increase a little the dynamic range.
See you, Cartola.