"Tall and tan and young and lovely, the girl from Ipanema goes walking
And when she passes, each one she passes goes – ah"
This song has been sang by Frank Sinatra (with Tom Jobim in this video) and others around the world. Shown above is a small part of the original "Garota de Ipanema" (The Girl from Ipanema), a music composed by Tom Jobim and Vinícius de Moraes. The Portuguese version in the panorama is sang by Toquinho and Vinícius, recorded in 1975.
Ipanema is a very inspiring place, and right at its corner is Arpoador. There is no physical delimiter between them. The neighborhood, the beach, always full of young and beautiful people, inspired Vinicius de Moraes, Tom Jobim and many other lovers since no one knows when.
Daily the crowds go over the rocks to see the sunset. As a friend said when we were there shooting, it is amazing how people do that for more than 20 years, and every single sunny day the clap their hands when the sun hides below the horizon. Oh, that's a wonderful thing, and that's one more reason why this is so called "The Wonderful City"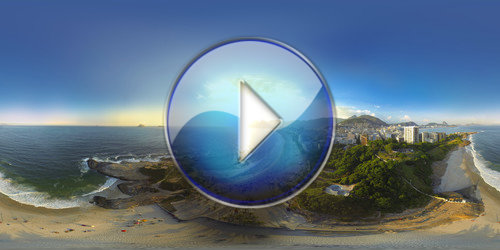 Technical Datasheet:
See you, Cartola!