"Turn your face toward the sun and the shadows will fall behind you." – Oriental saying

These pictures were shot at Point Loma, a hilly peninsula that is bordered on the west and south by the Pacific Ocean, the east by the San Diego Bay and Old Town and the north by the San Diego River. The time of the shot was good for the picture of the sun, but unfortunately I couldn't visit the Cabrillo National Monument as it was already closed. I went there with a friend met at a conference I was participating in the city. He suggested me the place. Then we stopped in this place, which gave me a very peaceful sensation. Although it might look morbid, I try to face things naturally. I believe oriental people do that more than occidental. The Fort Rosecrans National Cemetery  is a federal military cemetery where are interred soldiers died in battles, wars and accidents since 1846 until the World War II.
As the place is a little far from downtown (about 10 miles) the peace feeling was great. It has very few people and we could basically stare the nature, the sky and the view around.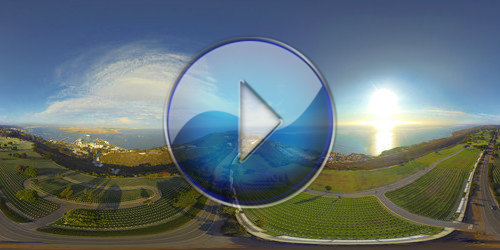 Technical Datasheet:
Ground picture
Camera: Canon 5D mk III
Lens: Canon 8-15mm at 15mm
Tripod: not used
Spin around: 8 horizontal stops with camera around 30º down + 1 pic up (zenith)
Pictures: 3 JPGs with 22 megapixels at each stop using camera auto bracketing varying 2EV between shots
Exif: ISO 200, WB auto, 1/200s + 1/1600s + 1/8000s, F4
Final image: 12.000 x 6.000 pixels = 72 megapixels
Aerial picture
Camera: Gopro Hero 3
Drone: DJI Phantom
Spin around: 8 stops trying to stop at each 45º with cam around 45º down + 8 stops with cam at horizontal position + 2 zenith) made from ground
Pictures: one JPG with 12megapixels at each stop
Final image: 11000×5500 pixels = 60 megapixels
Common to both shots
See you, Cartola!