In this immersive panorama we can see a group of friends from Trilharte in a photographic meeting at "Museu da República" (Republic Museum) in Rio de Janeiro, Brazil. The museum is installed in the old Palácio Nova Friburgo (New Friburg Palace), also known as Palácio das Águias (Eagles Palace). Nowadays it is called Palácio do Catete. Built between 1858 and 1867 it has been the headquarters of Brazilian Republican government during 64 years. 18 presidents have used its installations. Juscelino Kubitschek has finished the presidential age of the place, with the transfer of the federal government to Brasília in 1960. The presidential room has been where the president Getúlio Vargas has committed suicide in August, 1954. More information in Portuguese at the Museum's site.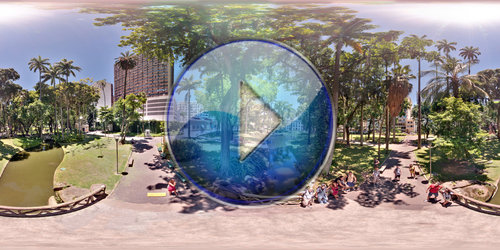 Technical datasheet:
I still need to increase the pole stability somehow. It has been used at half high in this picture. One of the problems of the way I am using to stabilize it now is that it takes me too much time. I am using strings from the top until each tripod leg extreme. I need to put strength to each rope little by little in order not to bend the pole. I am thinking of some kind of gear to pull the three strings together.
See you, Cartola.