Hi fellows,
this is the entrance of the Palace of Versailles, one of the biggest palaces of the world. Surely to show all of it it would be necessary to make hundreds of panoramas. It has 2.153 windows, 67 stairs, 700 rooms, 1.250 fireplaces and 700 acres of gardens. Besides the official site, its wikipedia page can give us a lot of information.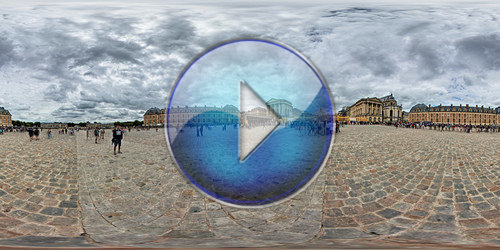 Technical datasheet:
Camera: Canon 60D
Lens: Opteka 6.5mm
Tripod: Dolica proline and panoramic head made by me model #2
Spin around: 8 horizontal stops with camera 30º down + 1 zenith
Images: 3 x 18 megapixels JPG expositions at each stop using Magic Lantern's auto bracketing
Exif: ISO 100, WB luz do dia, 1/60s + 1/15s + 1/4s, unknown apperture (manual lens)
Final image: 12.000 x 6.000 pixels = 72 megapixels
Used softwares: Magic Lantern, Hugin, Enfuse, GIMP, Panini, Panotools Scripts, ImageMagick, krpano tools
Plugin: krpano viewer
See you, Cartola.