It was the second time I went to Village Rio Verde. Its a simple and pleasant resort in Papucaia, at the country side of Rio de Janeiro, Brazil. I went again with my family and a big group of friends. It has been that typical weekend when you don't see the time passing. I'd give it a 10. I hadn't build my panoramic tripod head yet and probably I would be afraid of putting the tripod inside the pool. Then I decided to rotate instinctively to take a manual sequence of pictures. To make a more intimate scene I called my son. He immediately came to help me doing his posing job. As I really need to do many pictures to mount the panorama, why don't let that motivated newbie model make his elaborated poses?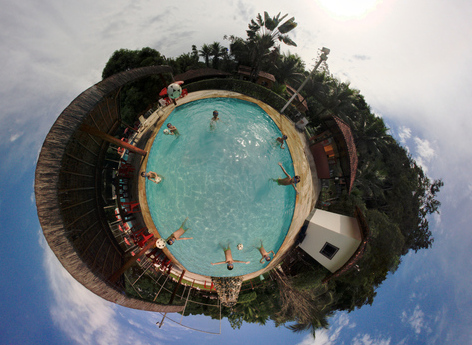 This outdoor picture also let me do it in the Little Plannet format you can see beside. The name is due to the "Little Prince" book where there were some drawing with the boy over a little planet.
As I didn't usea tripod, monopod or anything to help me making a good turn around the wright point I've had a great post-edition job on this image. The result made it worth. Anyone who visits me will probably see in a few time a wall poster with this "Little Plannet" at the boy's room. I will have to make another so that "Lipe" doesn't get jealous.
Technical data sheet:
See you, Cartola.