Hi folks,
this 360×180 panorama will surely get into the highlights. It was shot in June 14th, 2011 and I only finished this by now, in January 2012. I've had some difficulties that made me postpone the final result to make it good enough as this one deserves.
I have visited the place casually for the fist time. I went there for a music meeting when I did another panorama and saw that room when I passed by. Then I have called the club asking to make this picture. This was the first real test I made with my new (at that time) Sigma 10-20mm.
The place is quite beautiful and has been restored in 2011. The building has been built between 1907 and 1910 and have been opened in June, 1910. According to the Naval Club site (in Portuguese), has been projected by the architect Tomazzo G. Bezzi, built by the responsibility of the engineer Heitor de Mello and the artistic decoration was made by Hélios Aristides Seelinger. The building in eclectic style, with Italian Renascence elements, has been protected by Brazilian law in 1987. Together with the Municipal Theater, the Federal Justice Cultural Center (old Supreme Federal Tribunal), National Museum of Fine Arts, National Library and Pedro Ernesto Palace integrates the Downtown Cultural Corridor in Rio de Janeiro. I personally would put the Portuguese Royal Reading Cabinet in this group.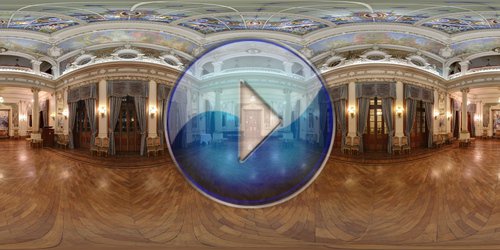 Technical datasheet:
This has been the first panorama I did with this lens, mentioned below. I was still using my first self made panorama head in my tripod and this one was a little harder to adjust. With my lack of experience with this lens I got two big holes in the floor, without any image corresponding to them. It took me a long time to cover them, because I have tested many ways to do that in order to learn and to find a better one. I still think it could have been better done, but it comes a time when you need to choose when to stop, otherwise you never finish. Who knows someday I don't take it again to make it as perfect as I wish. The best way I think would be manually cover the wholes with the clone and healing tool in GIMP.
A very nice discover has been Multiblend. It is much much faster than Enblend. Although people said it doesn't make a much smart seam choice, this image didn't need that, so the faster time has been really good here. It took less than 2 minutes and Enblend would take about one hour I guess. Using Multiblend I could achieve a bigger image that I used to do. From the 12,000 x 6,000 pixels that I used to do, I passed to 25,000 x 12,500, coming from a resolution of around 90megapixels to around 300, what makes a much better zoom experience. Another thing that contributed with the possibility to work with a bigger image has been a new computer I got. Only on it I got to edit the final image for last little corrections and I also did it on the cube faces instead of the equirectangular, reducing the size of the edited image.
Another curious thing that I experienced with this big image was a "convert" memory limit (convert is a tool from ImageMagick). It has not been able to transform the final image to generate my thumbnails. I tested it on Windows and FreeBSD and it crashed due to lack of memory. GIMP did the job with no problem. Maybe there is some configuration option I don't know in convert, but I guess it could be a little smarter by itself. I ran it with 8GB of RAM and it didn't use it.
Camera: Canon 550D (RebelT2i)
Lens: Sigma 10-20mm at 10mm
Tripod: Dolica proline with panoramic head made by me (model #1)
Pictures: 3 18megapixels JPGs at each stop, with 2EV variation (-2EV, 0EV, 2EV) using camera's bracketing (AEB)
Final image: 25000×12500 pixels = 300 megapixels
Softwares used: Hugin, Enblend + Enfuse, Multiblend, a lot of GIMP, Panotools Scripts, Panini, Deval VR player, ImageMagick, krpano tools
Plugin: krpano viewer
See you, Cartola.